2016 Ford Fiesta Phoenix AZ
The Ford Fiesta is great for drivers looking for a vehicle with spunk, sassy and a little bit of class. It is speedy, sporty and has enough space to be able to fit up to five comfortably. It is also extremely versatile and has tons of great features. Drivers love the Fiesta because, as its name suggests, it's fun and easy to handle. You can hop in and drive off into the sunset with little preparation, and when it comes to getting to your destination efficiently, you're covered.
The 2016 Ford Fiesta Phoenix AZ is similar to prior model years with the exception of one facet: the infotainment system. The 2016 Ford Fiesta is one of the first to come with Ford SYNC3, which is Ford's improved infotainment system that is now more responsive to touch and audio voice recognition, making it more user-friendly.
Check out our complete inventory of Ford Fiestas for sale in Phoenix AZ today at Bell Ford!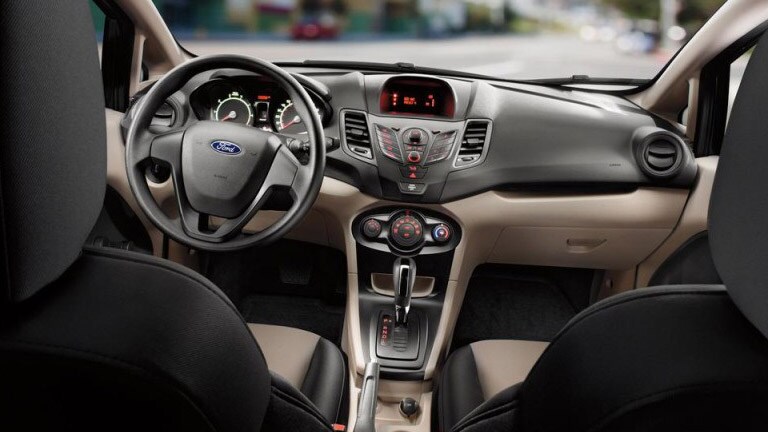 High-tech interior makes for an exciting ride
It's a great time to get a Ford because Ford is the leader when it comes to high-tech features and advanced technology. All of the vehicles manufactured by this outstanding company are well-equipped to handle just about anything and with ease. The 2016 Ford Fiesta is no exception. It comes in a few different models, and there is even a high-performance model if you have a need for speed.
The standard 2016 Ford Fiesta will come as either a sedan or hatchback model and has an outstanding standard fuel economy rating of 28 city/36 highway MPG. If you are looking for an affordable, stylish, functional, fuel efficient vehicle, this will be the perfect vehicle for you. It is comfortable yet compact, powerful yet pristine. The 2016 Fiesta offers seating for five, no matter what body style you choose. Get more information about the 2016 Ford Fiesta today at Bell Ford! 
Get more information about the 2016 Ford Fiesta Phoenix AZ today at Bell Ford!
It is easy to see why so many drivers enjoy the 2016 Ford Fiesta in Phoenix. It is efficient and can handle a wide variety of tasks and terrains, but on top of everything, it is efficient and easy to maneuver. Phoenix is a bustling city full of life and we would never want your vehicle to be the thing that slows you down.
Some of our favorite features included in the 2016 Ford Fiesta, in addition to Ford SYNC 3, which we've already mentioned, include its heated leather seats, premium Sony audio system, intuitive dashboard and plenty of cargo space.
A few of our other favorite features of the 2016 Ford Fiesta include available hill-start assist, an available rearview backup camera, Ford MyKey, a push-button start engine, electronic automatic temperature control, ambient lighting and torque vectoring control.
Check out the 2016 Ford Fiesta Phoenix AZ today at Bell Ford!