Ford Mustang Lease Deals & Offers In Phoenix, AZ
Searching the internet for awesome Ford Mustang lease deals? It's no wonder you found us.
Bell Ford has a proud tradition of integrity, and you don't have to try too hard to meet someone in Phoenix who's a repeat customer. This page will highlight the way we do things and give you a tour of the new Ford Mustang for sale (or lease). No matter how you take one home, your exceptional experience starts here.
How To Lease a Ford Mustang in Phoenix
---
Step one — check. You found us. This is probably the most important step on your quest for incredible Ford Mustang lease deals. The following steps are some of the best tips we could offer to make your shopping experience a great one.
Step 2: Browse Our Ford Mustang lease offers — And pick your favorite! Now, if you've been shopping, notice our "price beater" button. What's that going to do for you? It's going to show you that a competitive deal in Arizona is right here.


Step 3: Get ready to take home one of our Ford Mustang lease deals — How do you do that? You can start by filling out our credit application for a possible pre-approval or you can email one of our sales associates. We'll pull together some basic information, and if you hang tight, your deal will probably be ready to go in no time.


Step 4: Make sure there's no one near you — Why? Because our Ford Mustang lease deals are so good that it's not uncommon for the lessee (you) to cause hearing loss in those around them when they review their monthly payment. Screams of joy often result from our custom lease specials. But the hearing of your friends and family, well, let's just say you've been warned.
Ford vehicles are part of our culture. We're thrilled to offer ways to take home these cars with our Ford Mustang lease deals. You set the terms. Tell us what you've got to work with (down payment, trade, miles needed), and we'll make it happen.
Ford Mustang Lease Deals = Options
In post-war Europe, lightweight sports cars were all the rage. People were letting loose. Looking to have fun in every way possible. And the Ford Mustang was born. To this day, they remain iconic, affordable, and wonderful to drive. This year's options are no different, so be on the lookout for all the trims, including the:
2022 Ford Mustang
2022 Ford Mustang Premium
2022 Ford Mustang GT
2022 Ford Mustang GT Premium
2022 Ford Mustang Mach 1
2022 Ford Mustang Shelby GT500
As it's available in either fastback or convertible, every day can be a love affair with the road. Enjoy modern musts like touchscreen infotainment, smartphone connectivity, classic styling, and more. Shoppers might find the most value in a Ford Mustang EcoBoost lease on Ford Mustang and Ford Mustang Premium models.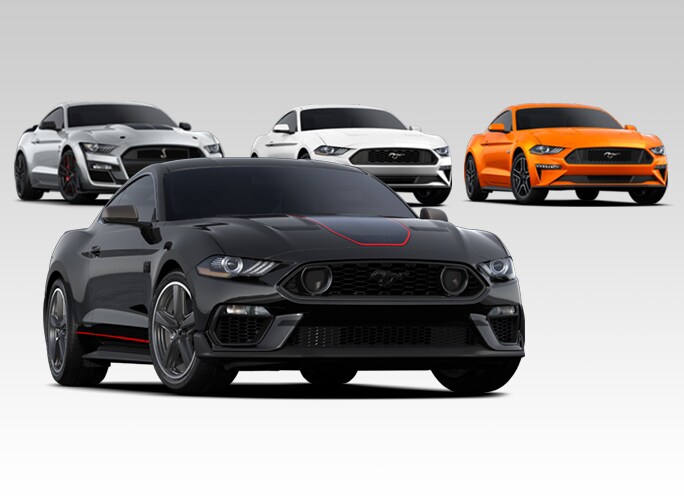 Heaps of Hell-Raising Horsepower
---
With up to 480 horsepower found in the Ford Mustang Mach 1, there's no telling how much trouble — how much fun — you can have with yours. Even the EcoBoost models have enough guts to put the original versions to shame.
Any of these vehicles would be ripe for customization. If you're new to the Ford Mustang lifestyle, there is an endless array of accessories, performance parts, and styling options. The sky is the limit, and your wildest dreams are only the beginning.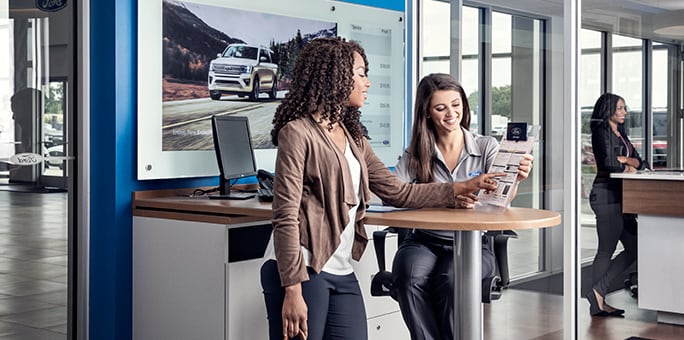 Lease Vs. Buy
So do you rip it up in one of our Ford Mustang lease deals, or do you buy one? Many customers ask about this, and there's really no mystery behind leasing or buying. People who drive more and keep their vehicles for a long time will enjoy purchasing their Ford Mustang.
If you know you only drive a certain amount and enjoy that new Mustang smell every few years, then leasing is a great way to go. Less money is needed up front, and you'll also enjoy the smallest monthly payment. In other words, leasing is a great way to minimize financial outlay on a top model. Like a Ford Mustang Shelby GT500 lease, for example. Still not sure? Ask one of our specialists which might be right for you.
Try Something New at Bell Ford
---
Ford offers up some of the most exciting car models in the industry. Wherever there's a tough job that needs gettin' done, there's a Ford F-150 always on site. Looking toward the future? Why not try the all-new Ford Mustang Mach-E? All-electric and insanely fast, this vehicle represents the future of the brand in many ways. For something totally different, get on the list for a Ford Maverick lease and show off in classic modern style! See you soon.
View More Ford Lease Specials In Phoenix, AZ: