Ford Bronco Sport Lease Deals & Offers In Phoenix, AZ
Our Ford Bronco Sport lease deals mean that your next awesome adventure has arrived. In today's world, it's tough to dig through all the new SUVs' specifications. Which one has AWD? Why doesn't that one come with off-road traction management? What do you mean there aren't ample power outlets?
The all-new Ford Bronco Sport puts an end to all of that by bringing back a vehicle that's a real SUV. There's tons to do in Arizona, and our Ford Bronco Sport lease offers are going to be the best way for you to get out there and enjoy it. Check out our page outlining the all-new Ford Bronco Sport for sale, or keep reading for lease benefits, features, and more.
Why Lease a Ford Bronco Sport in Phoenix?
---
Because Ford Bronco Sport lease offers are awesome and leave every other compact-SUV lease in their dust! Every Ford Bronco Sport model is built to do battle in the great outdoors (in addition to supermarket parking lots). There is so much to do and see in our area that you need a vehicle designed to get you there, support your activities, and get you home. Here are the models you're looking at:
2022 The Ford Bronco Sport
2022 The Ford Bronco Sport Big Bend
2022 The Ford Bronco Sport Outer Banks
2022 The Ford Bronco Sport Badlands
No matter which one you choose, you'll be ready for anything with standard features like AWD, front and rear collision detection, blind-spot monitoring, lane departure warning, lane-keep assist, autonomous braking, smartphone connectivity, touchscreen infotainment, and more.
If you live in Phoenix, you've got to come and see us. We know what your lifestyle is all about, and we'll help you sift through our Ford Bronco Sport lease deals for the perfect one.
A Spotlight on Specifications
All models come with AWD. This is a real SUV. So get in and go. Anywhere. An eight-speed automatic transmission backs up both engine options, which include a 181 horsepower three-cylinder engine or a 245 horsepower turbocharged four-cylinder.
Considering the fact that the original Ford Bronco only got 185 horsepower out of a 5.0-liter V-8, you can definitely see how the breed has evolved to become more efficient and more powerful than ever.
Plenty of colors, options, and lifestyle accessories await your selection. We'll do a feature highlight in just a second, but if you're looking to combine the most creature comforts with value, we'd recommend starting with a Ford Bronco Sport Big Bend lease.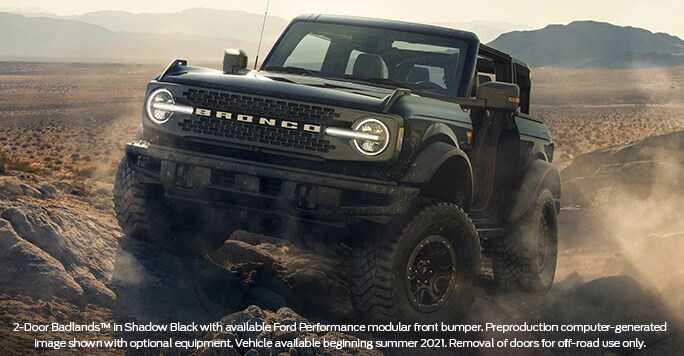 What Can You Do Near You?
---
Here is where things start to get really fun. A little over 100 miles to the north of us is Verde Hot Springs along the Verde River. If you haven't been, you HAVE TO go. And now you can. A hikers', bikers', campers', and swimmers' paradise is waiting for you.
But before you reach any of those valleys and vistas, you've got to take an awesome off-road trail to get there. Fossil Creek Road will smash anything else to bits. All Ford Bronco Sport lease deals come equipped with GOAT mode (or go over any terrain), ensuring a successful journey.
Um, Yeah. Roof-Top Tent Anyone?
---
There's a lot of things that slither along the ground in the desert. Scorpions, snakes, and other little critters that love to visit you while you're taking a nap. Want to know how to beat them at their own game? Sleep in the trees, friends! Or at least on top of your Ford Bronco Sport. With our Skyrise HD tent system, you and yours will sleep safely in minutes with a camping solution that flips open in minutes.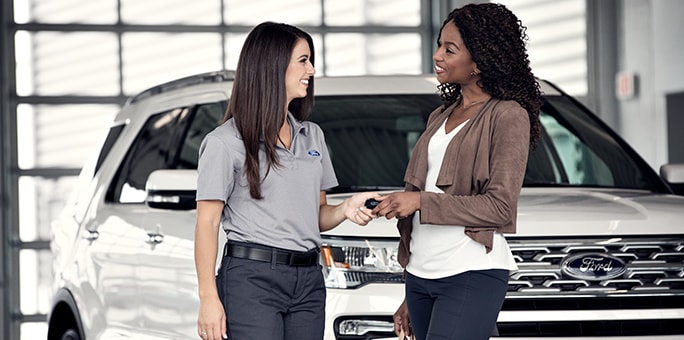 Get Your Ford Bronco Sport Lease in Phoenix
Curious about how our Ford Bronco Sport lease deals reign supreme? Just browse our inventory. Pick your favorite. See that little tab that says "price beater?" Hit it. We're not kidding! Our sales associates are ready to help you get started on the next leg of life's journey.
We realize that you A) need the right vehicle, but also B) need a few extra bucks for coolers, ice, snacks, band-aids, flashlights, etc. Let us help craft a lease that's going to make it all possible. We can even explore the option of finding you a used Ford Bronco Sport. Manager's demo units and courtesy cars do come available, so if you're interested in one of those, just let us know!
View More Ford Lease Specials In Phoenix, AZ: