Ford F-150 Lease Deals & Offers In Phoenix, AZ
View More Ford Lease Specials In Phoenix, AZ:
View More Ford Lease Specials In Phoenix, AZ:
Our Ford F-150 lease deals are about as American as apple pie and as awesome as a weekend spent in Lake Havasu. Bell Ford is pleased to announce that we've crafted a variety of different lease packages to suit all lifestyles, from working hard to playing hard. This page outlines a bit more about the new Ford F-150 for sale or lease and what our leasing details mean for you.
Ford F-150 Lease Deals: A Patchwork Quilt of Options
---
Wherever there's a desert campsite in Arizona, there's a Ford F-150 that sits proudly beside it. Gather the family or a group of friends and head out into the unknown. Get ready for good times and clear skies ahead. Explore all the ways you can take on any activity with models like the:
2022 Ford F-150 XL
2022 Ford F-150 XLT
2022 Ford F-150 Lariat
2022 Ford F-150 Tremor®
2022 Ford F-150 King Ranch®
2022 Ford F-150 Platinum
2022 Ford F-150 Limited
2022 Ford F-150 Raptor
With two bed sizes, three cab configurations, and more than half a dozen ways to customize your drivetrain, there's a lot to love about any of these. But what comes standard? Quite a bit. All models showcase standard amenities like smartphone connectivity, an 8-inch touch-screen infotainment center, SYNC® 4 and FordPass™ Connect with Wi-Fi hotspot, emergency braking, auto headlights, trailer sway control, a backup camera, and trailer assist, and each contains more grab handles, tie-downs, and storage bins than you'll know what to do with. And the best part: We'll craft these Ford F-150 lease deals to suit your needs. How? Read on.
Engine Options When You Lease a Ford-150 in Phoenix
Pop the hood and slam in a 3.0-liter diesel V-6 with 250 horsepower, a 3.3-liter V-6 with 290 horsepower, a bi-turbo 2.7-liter V-6 with 325 horsepower, a 400-horsepower bi-turbo V-6, a 400-horsepower 5.0-liter V-8, or an all-new hybrid setup based on the V-6 with 400 horsepower. Two-wheel drive (2WD) or four-wheel drive (4WD) is available with power finding your thirds via a 10-speed automatic transmission for maximum power off the line and efficient highway cruising.
Want to make the most of all that power? Try one of our Ford F-150 Tremor lease offers and shake the ground in Phoenix with 33-inch off-road tires, suspension, armor, and more.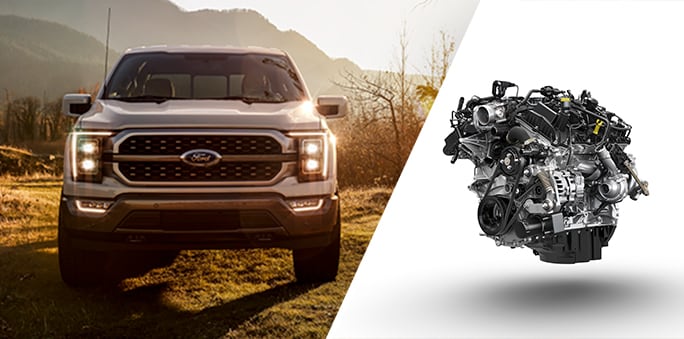 Try a Ford F-150 Lariat Lease
---
You don't have to spend a ton of money to tap into enhanced capabilities and creature comforts. That's exactly what the Lariat model is all about. With just a little more pocket change, you'll add leather seats, 360-degree LED lighting, remote tailgate release, ambient lighting, easy access, keyless start, lane-keep assistance, blind-spot monitoring, leather seats, a 12-inch touch-screen infotainment center, auto climate, premium 18-inch wheels, extended color options, and so much more. This model is a well-rounded performer.

Get To Work in Our Ford F-150 XLT Lease Offers
Grabbing one of these Ford F-150 lease deals is a smart way to go if you're looking to refine what it means to be comfortable in the field with added capabilities. This model adds some great features to help you out on the road. Enhanced safety from Ford Co-Pilot360™ 2.0 means that you're protected from hazards seen or unseen near you. Lane-keep assist keeps you straight and true when you might be distracted otherwise. Customize your ride with Trail Mode, Slippery Mode, Sport Mode, and Eco Mode. The only real question left for this model is where you plan on taking her this weekend.
Ford F-150 Lease Deals & More
---
A lot of customers ask whether it's better to lease or finance. And the straight truth is it really depends. If you love to keep your cars and trucks forever, then financing is the way to go (and hey, we've got great finance options for you, too). But if you love to experience a new truck every few years, prefer a smaller payment, and drive less than 15,000 miles a year, a lease will save you a ton of money over the long haul.
Check out our Ford Maverick lease options, too. If you're making the switch from another brand and have driven smaller pickup trucks like the Tacoma or Canyon, then you might love how agile and capable this particular model is. As we said in the beginning, with Ford trucks, you've got options. Ask one of our vehicle specialists about our new Ford Ranger trucks. We think you'll love what the new lineup looks like. But we know you'll love your payment even more. Give us a shot.
View More Ford Lease Specials In Phoenix, AZ: