Ford Technology Center in Phoenix, AZ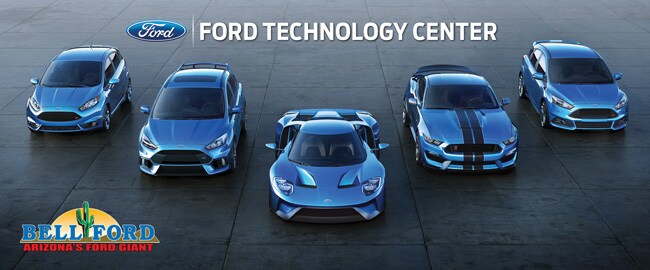 Ford has always been one of America's favorite brands.  As one of the pioneering automobile companies, it has moved forward strongly with the times, always at the forefront of in-car entertainment and information technology.  That's why so many drivers in the Phoenix area love their Ford models at Bell Ford.  With always reliable vehicles and a strong commitment to the latest in vehicle technology and connectivity, Ford is on top.  If you are considering a Ford model as your next vehicle of choice, our Ford Tech Information Hub has the answers you need.   
SYNC®. KEEP YOUR HANDS ON THE WHEEL AND EYES ON THE ROAD.
Voice-activated phone, entertainment and some mobile apps.
Music Search and Control
SYNC makes it easy to connect to your music and entertainment wherever you travel. Say what music you want to hear and listen to it easily with voice-activated search or say "Bluetooth® audio"  to wirelessly stream your favorite content on your phone. You can even let SYNC put together a personalized playlist.
SYNC® 3
Smart hardware. Smart software. Smart design.
Click your way around SYNC® 3.
Simple music search, capacitive touchscreen, enhanced voice recognition, and climate control keep your hands on the wheel and your eyes on the road.
Introducing SYNC® 4 and 4A
SYNC® Thinks Fast
In this fast-paced world, it's important to have tech that can keep up. With a powerful processor and adaptive capabilities, available SYNC® 4 certainly does, bringing new levels of intelligence to your Ford. And you won't miss a second of it with a variety of new screen options from the 8" to the monumental 15.5".
Look no further than a Ford for the most fun you'll have on the road in Phoenix, with dynamic vehicles and an entertaining trip every time.  If you'd like to experience Ford SYNC for yourself, visit our dealership to test drive one of the many models equipped with Ford's industry leading infotainment system.  Browse our online inventory, and then give us a call at 602-457-8261.
Bell Ford

2401 West Bell Road
Phoenix, AZ 85023